When:
03/03/2019 @ 2:30 pm
2019-03-03T14:30:00-06:00
2019-03-03T14:45:00-06:00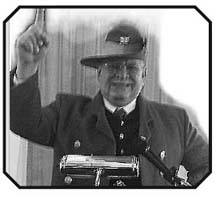 Historical Re-enactor Darrel Draper will portray Theodore Roosevelt in a unique educational and entertaining program. Our 26th President of the United States and better known as "Teddy", he was famous for his energetic personality and "cowboy" image. Roosevelt's achievements as a naturalist, explorer, hunter, author, and soldier are as much a part of his fame as the many political offices he held. Draper, who bears an uncanny resemblance to Roosevelt, has been described by audience members as "an awesome and absolutely wonderful performer" who is able to transport listeners back in time to the era of his characters. His humor and knowledge of history have delighted audiences aged 8 to 80, explaining why he is one of the most requested speakers in the Nebraska Humanities Council's Speakers Bureau Program.
*****************************************
Brought to you by Celebrate Wood River
Visit our website for more scheduled FREE events!! Wood River Centennial Community Foundation
2017-2018 Celebrate Wood River Events
WOOD RIVER RURAL HIGH SCHOOL PERFORMING ARTS CENTER
13800 W Wood River Road, Wood River, NE
All Performances are free and open to public
Cost: All performances are offered FREE to the public. A freewill offering is accepted at the event to make future programs possible.
Contact: Questions or wondering if an event will occur due to inclement weather? Contact Georgene Smidt at 308-583-2606. Better yet, get added to our email list to receive updates about upcoming events and emergency announcements by emailing [email protected]  .